April 22 is observed as Mother Earth Day by the United Nations. This presents a great opportunity for us to discuss simple ways in which we can protect our environment.
Here are a few activity ideas that help us talk to communicators about how we can make the Earth happy 😊
1. Happy Earth, Sad Earth Activity
Free Activity Download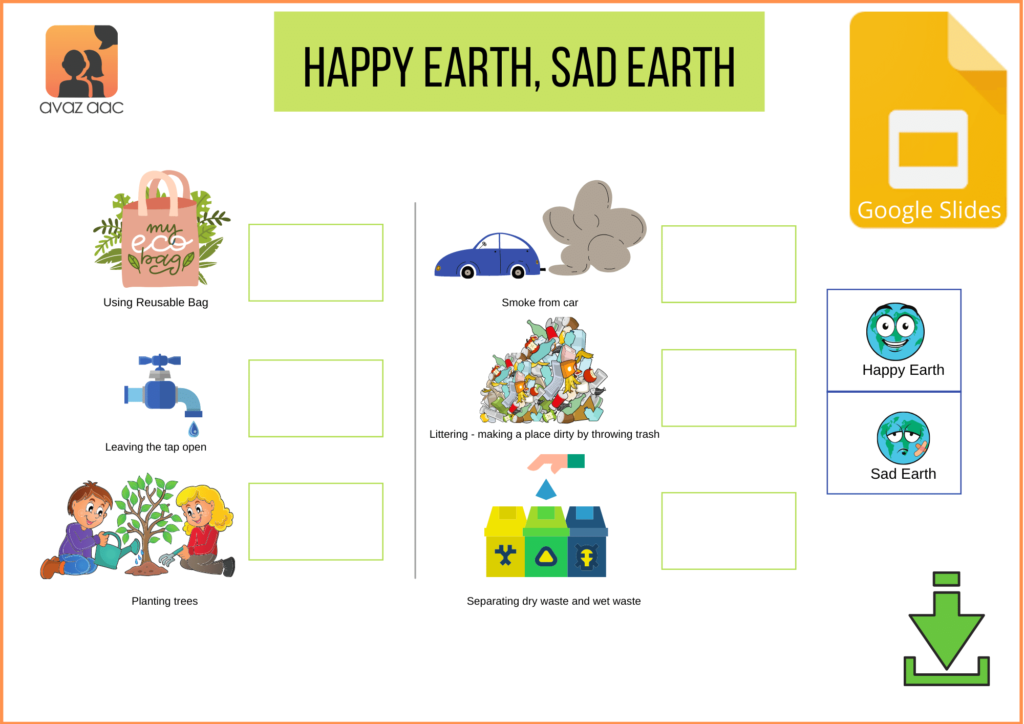 Click on this image to download an interactive google slide of the Happy Earth, Sad Earth Activity. This works great for teletherapy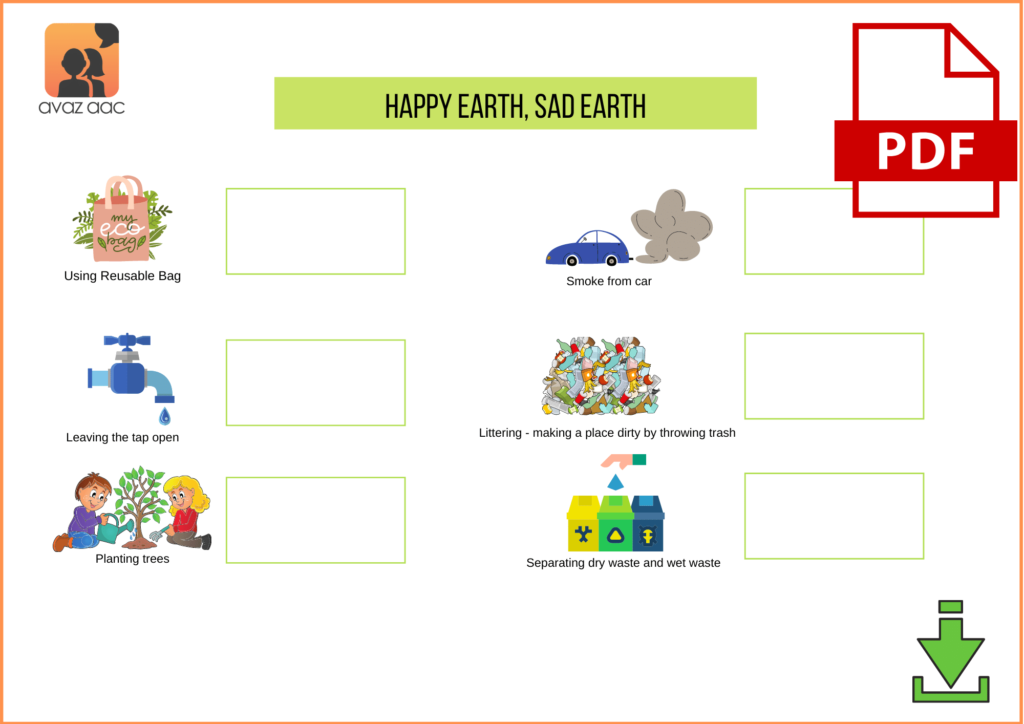 Click on this image to download a PDF of the Happy Earth, Sad Earth Activity. This works great as a printable activity.
Use this activity to teach children the things that are causing harm to the environment. Talk to them about conservation of energy, pollution, and other related topics. Make sure to use simple language along with the visuals to understand the do's and don'ts to keep our environment healthy.
You can model Happy and Sad on the child's AAC system during the activity. We can also model 'clean', 'dirty', 'healthy' while explaining what makes Earth happy.
2. Wordless Videos
The earlier children learn about the adverse effects of plastic, the better it is for the environment.
But how do we explain the connection between plastic and pollution?
Here's a wordless video that can help you discuss just that. This video explains how plastic waste gets accumulated in the ocean and the resultant distress caused to marine life.
There are loads of words you can model during the activity including feeling words such as sad and happy, along with help, good, bad, right, wrong, do, don't, etc.
3. The Three R's
When children become aware about environmental issues, they can make the right choices to keep Earth healthy.
Explain the three R's – Reduce, Reuse, and Recycle in simple terms.
Reduce – Use

less
What can you use less of to help Earth be happy?
Talk about little everyday things they can do that can have a positive impact on the environment.
Less water. – Turn off Tap After Use
Less Electricity – Turn off lights/ fans/ TV when not in use
Less plastic. – Use reusable bags, cups, and plates instead of plastic ones
Reuse – Use

Again
What can you use again to keep Earth happy?
Paper – Use back side of paper to draw or write
Plastic Containers – Use containers again instead of buying new ones
Clothes – Buy new clothes only when necessary and donate old ones
Recycle – Making New from Old
How can you recycle to keep Earth happy?
Separate dry waste from wet waste
Discuss what things come under dry and wet waste and talk to them about sorting garbage.
You can also model color words such as green & blue while explaining what each trash bin color indicates.
Hope you enjoyed these Earth Day Activity Ideas. Please leave your feedback and suggestions in the comment section below.
Find more AAC activity ideas here and here.