Valentine's Day is a day dedicated to celebrating love and affection towards our significant others, friends, and family. While many people are able to express their love verbally, for those who use Augmentative and Alternative Communication (AAC), it can be a bit more challenging. However, with a little creativity and effort, anyone can share their love and affection using their AAC device.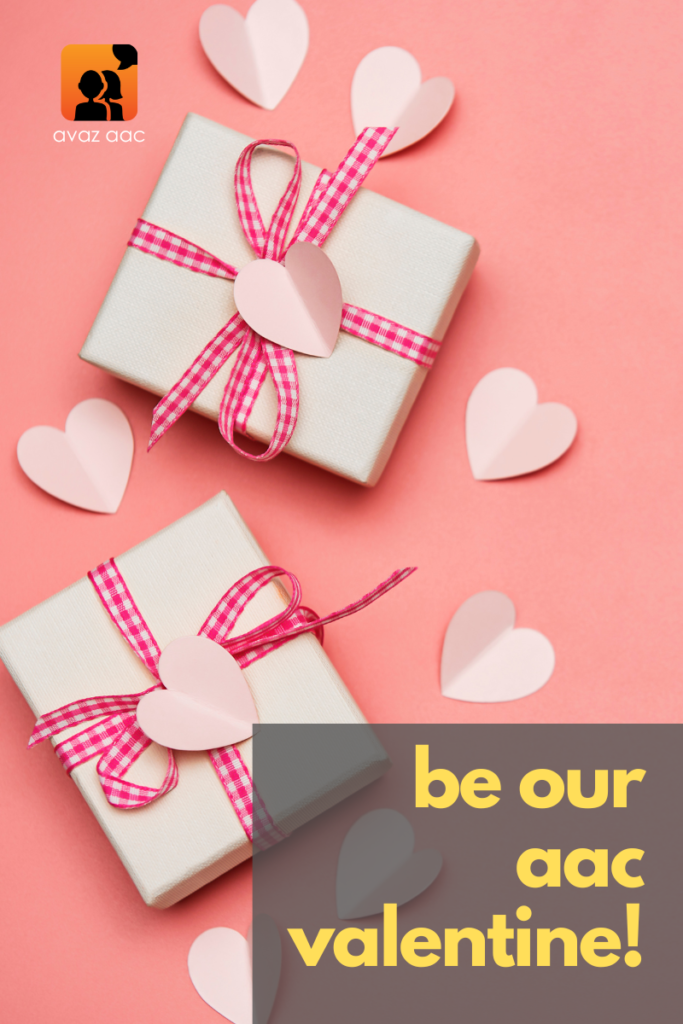 AAC Love
In this blog, we will explore various ways in which people who use AAC can participate in Valentine's Day and share their love. From personalized love messages to creative ideas for celebrating with loved ones, we will show that love knows no bounds. Anyone can express their love, no matter how they communicate.
So whether you're a seasoned AAC user or just starting out, we hope that this blog will inspire you to find new and creative ways to celebrate Valentine's Day and express your love to those who matter most to you.
GIF Your Love!
With Valentine's Day just around the corner, here is a creative way to celebrate it!
Communication as we know it today, feels impossible without emojis and GIFs. The GIF feature on Avaz AAC allows users to express their emotions and feelings in a visually appealing and fun way.
Click here to know how to create a GIF in Avaz AAC
The GIF feature on Avaz AAC is not just limited to Valentine's Day. It can be used throughout the year to express your emotions and feelings. 
Say It With Love!
With Avaz AAC's Share Message feature, sharing messages of love and appreciation is quick and easy. So go ahead and share your love this Valentine's Day, and make it a day to remember.

Use Avaz AAC's extensive vocabulary and personalize your message to spread love!
Love, Family, and Storytelling
Celebrating love and support of family!
Let's celebrate family love this Valentine's Day with some storytelling and Avaz AAC. Storytelling is a great way to share love and appreciation for your family. It allows you to express your feelings and create memories that will last a lifetime.
Join Avaz's Resident Speech-Language Pathologist, Nayantara, in a Fun Storytelling Session with Avaz AAC! This is a fun and educational way to celebrate Valentine's Day with your family.
Click here to watch the Storytelling Session with Avaz AAC!
With Lots of Love
Let's celebrate love in all its forms this Valentine's Day and spread the message of inclusion and diversity. Avaz Inc. is grateful for all the love you have continued to shower us with. Here's wishing you all a wonderful Valentine's Day. May all your days be filled with love, light and loads of laughter.
---
Besides Avaz AAC, we provide a whole host of exciting products & services. Use the buttons below to explore Avaz!